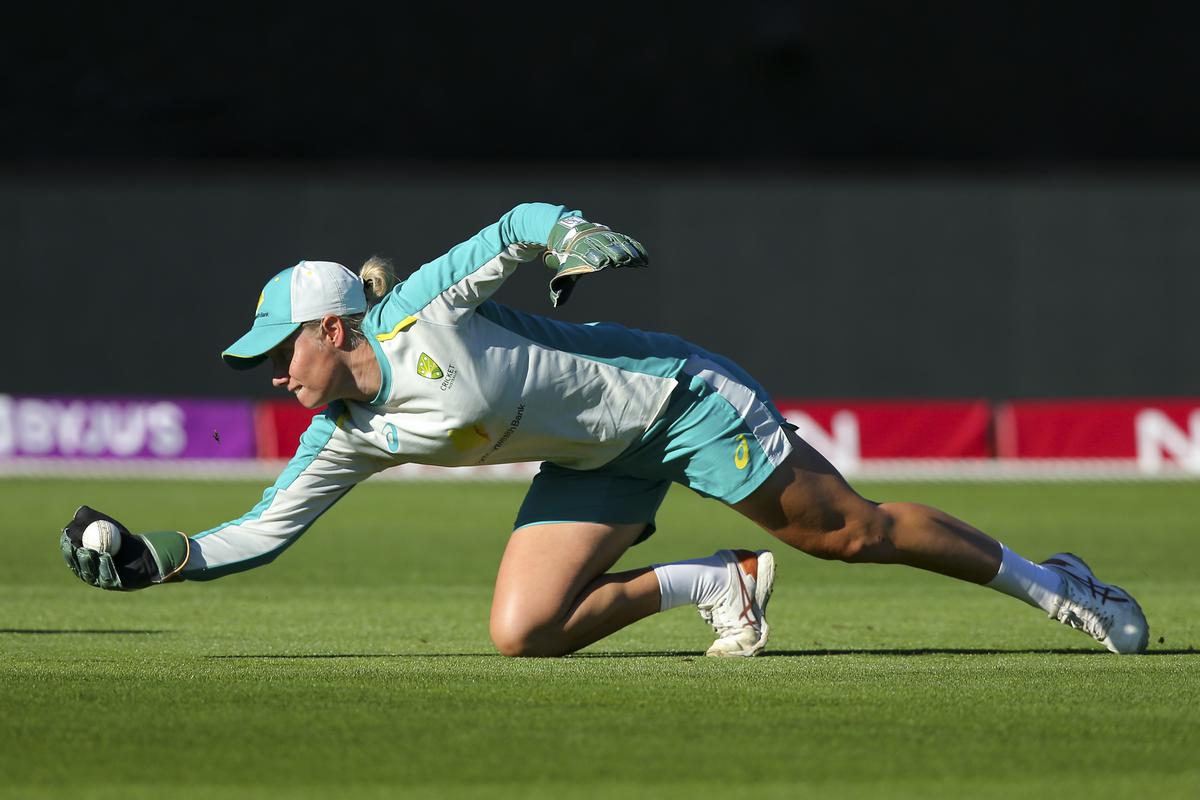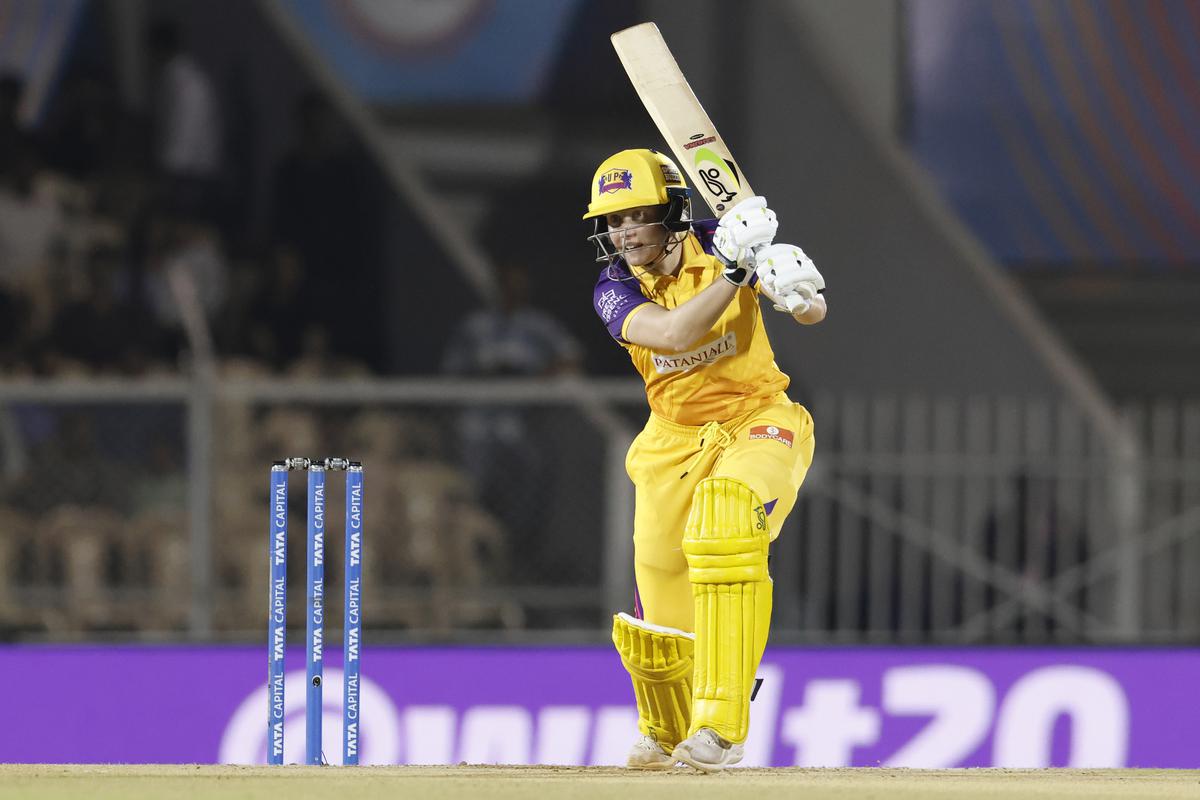 Alyssa Healy greets you with a bright smile on a pleasant Thursday morning at Trident Hotel on Mumbai's Marine Drive. The hotel is about a 10-minute walk from Brabourne Stadium, where a fortnight earlier she played a stunning knock.
Chasing Royal Challengers Bangalore's modest 138 in the Women's Premier League, she cracked an unbeaten 96 off 47 balls to lead UP Warriorz to a 10-wicket victory. That was only the latest of her big, brutally aggressive innings.
Healy is marvellously destructive and, to add to the bowlers' woes, she bats deep. In last year's World Cup final against England at Christchurch, the Australian wicketkeeper-opener played one of the great ODI innings, smashing 170 off 138 balls.
During an exclusive interview with The Hindu, the smiling assassin spoke about being part of an all-conquering Australian team, captaining a franchise in the WPL's maiden season, the rivalry with India, growing up with the great Ellyse Perry and how a knock by Harmanpreet Kaur forced a change in Australia's approach to ODI cricket and even impacted her own career. Excerpts:  
What has the experience of the WPL been like?
It has been a great learning experience for me. We have got a coach that is English [Jon Lewis], the captain who is an Australian and we are playing in an Indian league; to have been able to pull them together is great.
Has the WPL lived up to your expectations?
Yes, it has. I thought it would be frenetic, exciting and somewhat chaotic at times. It has lived up to all the hype. I think the support for the WPL has been the best part. The viewership has been great. And every team has got sponsors all over their shirts.
Your husband Mitchell Starc was also in India, with the Australian men's team. And he had a good ODI series, taking eight wickets.
He really did well and the boys did a great job. He loves that white new ball. It looks like he is in good nick and is bowling fast. It's obviously hard to beat India in their home conditions, especially in a World Cup year.
Harmanpreet Kaur's 171 not out (115b) in the 2017 World Cup semifinal changed women's cricket in India forever. How do you look back at that knock and Australia's loss?
That changed the Australian group as a team and reshaped the way we wanted to play ODI cricket, and we have had a fair bit of success, which has been amazing. No matter what we tried that day and no matter what we bowled, she just found a way to hit it to the boundary. I remember us thinking we needed to come up with some different stuff. Everything that we threw at her wasn't good enough. That was a remarkable innings from her and it will stand out for a long time. It was a real turning point for the group and me personally as well.
After that World Cup, there was a dramatic change in your career. You were promoted to open on a permanent basis.
Before that, I was batting in the middle and probably didn't know what my role was. So from that moment on, we reinvented how we wanted to play One-Day cricket and that included me at the top of the order; I had never really got to grab the opportunity when it came to me earlier. At that time, being 27 and where I was in my career, it gave me the confidence to do better. And I am blessed I have always got excellent opening partners, like Rachael Haynes and Beth Mooney.
How does it feel being part of one of the greatest cricket teams — male or female — of all time? You belong to a golden generation of players like Meg Lanning, Ellyse Perry, Beth Mooney, Ashleigh Gardener, Megan Schutt, Tahlia McGrath…
It's pretty amazing. It's exciting that we have been able to create a culture where players can come in and be the best in the world. Tahlia can come in and perform straightaway and Ash can come in and be an amazing all-rounder. To me that's the most pleasing aspect. And I've got to play alongside Meg and Ellyse, who will probably go down as two of the best players of all time, and that's cool. What we have managed to achieve as a team is the most satisfying part. Yes, I am grateful I was born in this era and got to play for this generation of players. I think the way we have been able to set it up, it's going to be successful for an extended period of time.
You began playing with Perry when you were kids and the two of you have now won eight World Cups together. How good was little Ellyse? Did you imagine that she would become the cricketer she did?
Yes, I remember her and Meg standing out pretty early. Ellyse was better than half the boys she played against. It was no surprise that she was picked for Australia when she was 16. Her career has lived up to the expectations.
You didn't do badly while playing with the boys, either. You kept wicket to them, didn't you?
Yes, I held my own. I have played with boys all along, and that has helped.
How much help do you get from your uncle, former Australian wicketkeeper Ian Healy?
I don't get as much help from him as probably everybody thinks, but that's okay. I didn't grow up in Queensland. When I started playing for Australia, he played as much of a role as he could. It is great to have someone at the other end of the phone to chat about wicketkeeping. What I really love about him as a 'keeping coach is that he is really simple and old school. And my 'keeping is old school, too.
Which 'keepers have you looked up to?
Uncle Ian obviously, but if you look at my style of keeping, it's more like Brad Haddin. In my opinion, Tim Paine is one of the best glovemen in the world. So I look up to probably the three best glovemen Australia has had.
Australia and India and have been involved in some great contests in women's cricket over the last few years…
I think it is ultra-competitive, isn't it? Everybody wants to beat Australia, which we understand. We are sort of hunted at the top. India are probably the most competitive side in that bracket outside England. You can see how much India want to beat Australia in key moments, and I think that is great for the sport. That competition is going to drive the game forward. Yes, it can get tense in the field at times, but our rivalry is just going to make the game better.